Invited by Prof. QI Shengwen of the Key Laboratory of Shale and Geoengineering, IGG, assistant Dr. ZHU Jianbo from the Department of Civil Engineering, Hong Kong Polytechnic University attended visited IGG on June 7th, and gave a report entitled "Application of 3D Printing technology in Rock Dynamics".
Recently, 3D printing technology has experienced high speed development, and has been gradually applied to various fields of life. How to apply this technology to the field of rock mechanics has been a hot research topic for both Chinese and international scholars. Dr. ZHU Jianbo presented his recent research achievements alongside 3D printing research background, rock sample production, laboratory mechanics experiments, and numerical simulation of 3D printing technology in rock mechanic studies. 3D printing technology is feasible and advantageous in this field, and much of Dr. ZHU Jianbo's research has laid the foundation for further research.
This academic report has drawn strong response and more than 40 graduate students and researchers attended the report. After the meeting researchers had a warm discussion about the outlook of 3D printing technology in the field of rock dynamics.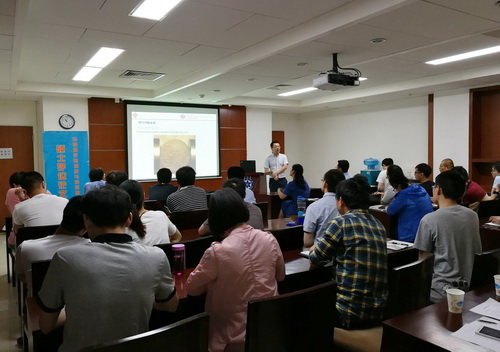 Dr. Jianbo Zhu presented an academic report at IGG