At the invitation of Prof. FAN Hongrui, the head of Department of Geology at Lakehead University, Prof. Peter Hollings, visited IGG on June 17, 2017 for academic exchange. He gave a talk about tectonic controls on porphyry mineralization: examples from Chile and the Philippines.
Prof. Peter Hollings firstly introduced examples of a range geodynamic settings, such as island arc, Andean arc, post orogenic belt, ridge subduction. Then he talked about the tectonic setting of giant porphyry Cu-Mo deposits in Central Chile. This porphyry mineral system was affected by ridge subduction as evidenced from geochemistry and Nd isotopes from regional volcanic rocks. Finally, he reported on a geochemistry and geochronology study on porphyry-epithermal deposits in the Philippines. In response to ridge subduction, magma mixing between "primitive" and evolved magmas led to porphyry mineralization in this region.
After the report, the participants had an in-depth discussion on porphyry Cu deposits in China and exchanged views of how magma can become oxidizing.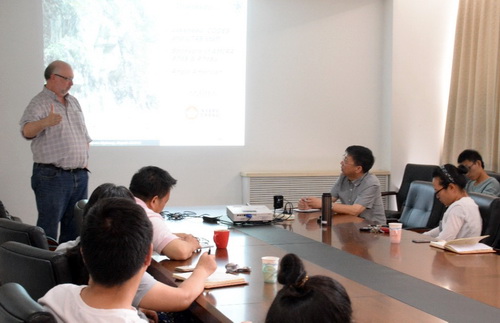 Prof. Peter Hollings giving his talk