Upon invitation of Director ZHU Rixiang and Prof. CHEN Ling, from November 9th to 11th, Dr. Morteza Telebian, Director of the Institute of Geosciences of the Iranian Geological Survey Bureau, as well as Dr. Hamid Nazari and Dr. Manouchehr Ghorashi, paid a visit to IGG and signed the Third-Phase Cooperation Agreement. Prof. XIAO Wenjiao, Executive of the Tethys Research Center, and Prof. CHEN Ling, Professor of the Division of the Earth's Deep Structure and Process, received the visitors.
IGG has held a strong cooperative relationship with the Institute of Geosciences of the Iranian Geological Survey Bureau since 2012. Over the past four years,the two sides have carried out two phases of the China-Iran Geological and Geophysical Survey in the Iranian Plateau (CIGSIP) project. During this most recent visit, Prof. XIAO and his colleagues introduced the research achievements made in the first phase (2012-2014) and second phase (2015-2016) of the cooperation, along with the details of the next phase of the cooperation program (2017-2019). The two sides communicated and reached a consensus regarding the problems that could possibly be involved in such a program and its implementation, along with the publication of the CIGSIP research results and the further strengthening of personnel exchanges between the two sides.
On November 10th, Prof. XIAO and Director Morteza Talebian signed the formal Third-Phase Cooperation Agreement between the two institutes, to clarify the specific plans of the joint field investigation, basic geology and mobile seismic array survey to be performed in the subduction zone of Mokran, Iran. Their CIGSIP research is expected to achieve further breakthroughs through this collaboration.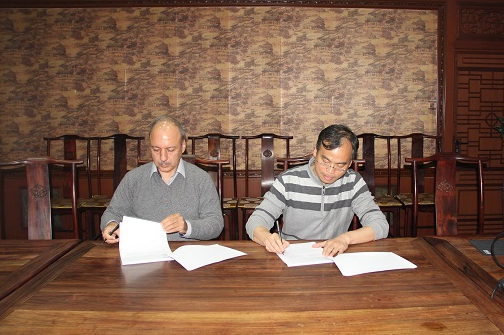 Director Morteza Talebian (left) and Executive XIAO Wenjiao (right) sign the cooperation agreement(Image by IGG)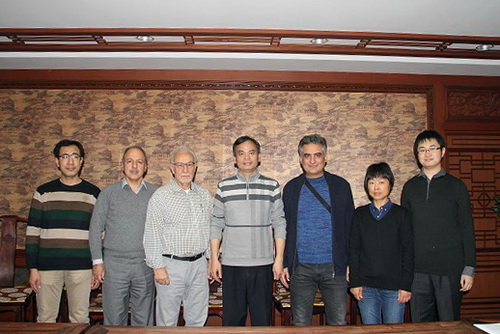 Group photo of the two parties(Image by IGG)