Reinhard F. J. Hüttl, the president of the German Academy of Science and Engineering (Acatech) and director of GFZ Potsdam, visited IGG from July 25 to 28. In the afternoon of July 25, Prof. Hüttl attended an academic exchange meeting with the scientists coming from the Geothermal Research Center (GRC) of IGGCAS.
During the meeting, Prof. Rixiang Zhu, the director of IGG, expressed a warm welcome to the German delegation. The deputy director of IGG, Prof. Qingyun Di, who chaired the conference, introduced the Institute, including aspects of its history, staff and scientific research, and emphasized advances made in geothermal research. Prof. Zhonghe Pang, director of the GRC, gave an overview of the GRC and presented several of its recent achievements. This included work on the genesis of geothermal resources, the evaluation and exploration of deep geothermal resources and the sustainable exploitation of geothermal resources. Additionally, he proposed a strategy of building a network of research bases with nationwide coverage, and demonstrated that the GRC will strengthen the academic communication and cooperation with GFZ. Prof. Hüttl affirmed the achievements of GRC in creating smoke-free cities using geothermal energy in north China.
Prof.
Hüttl presented an outline of GFZ and its scientific research achievements in fields of outer space, climate change and geological engineering. He highlighted the current state of German geothermal development policy and geothermal reservoir research in Germany. After the presentation, delegates discussed the economic benefit and environmental effect of geothermal heating and power generation, as well as the broad cooperation prospects for both GFZ and GRC. Finally, all the participants discussed the anticipated second Sino-German Geothermal Forum that will be held at GFZ in March 2017.
Other Germany delegates attending the conference were Dr. Ludwig Stroink, the head of International Affairs Office at GFZ, and Dr. Hong He, the head of Beijing Office of the Helmholtz Association. The Chinese delegates including Ms. Zhongxia Zhou, the head of international Affairs Office at IGG, together with Prof. Shengbiao Hu, Prof. Peifen Xu, A.P. Guangjie Wang and A.P. Yanglong Kong, all of who come from the GRC, also participated in the discussion.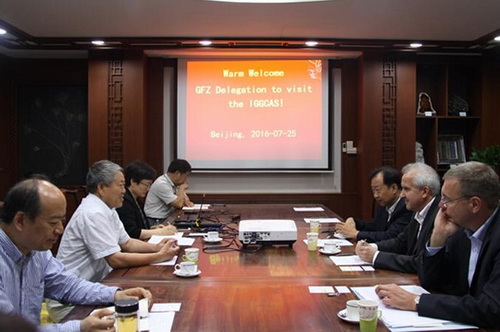 At the meeting