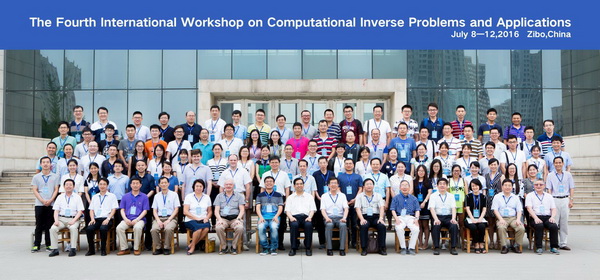 To promote international academic exchange and cooperation among distinguished scientists dealing with inverse problems, the fourth international workshop on computational inverse problems and applications (CIPA) was held on July 8-12, 2016, at Shandong University of technology, Zibo, Shandong Province, China. The congress is one of the international academic conferences held every 3 or 4 years by the Institute of Geology and Geophysics, Chinese Academy of Sciences (IGGCAS). Over 100 delegates from more than 40 universities or institutions from 6 countries and regions were present at the congress. Distinguished guests, including Prof. Anatoly Yagola, Prof. Chuanyi Lv, Prof. Jijun Liu, Prof. Peijun Li, Prof. Jun Zou, Prof. Zhihai Xiang, Prof. Y S Xu, Prof. Ting Wei, Prof. Kuramshina, Prof. Yamamoto, Prof. QN Jin, and Prof Xu D H, attended the congress.
On July 9, Prof. Yanfei Wang, chair of the conference on CIPA from IGGCAS, hosted the opening ceremony of the conference. Prof. Yagola, from Moscow State University, Russia and Prof. Xiangyun Zhang, vice president of Shandong University of Technology delivered the opening remarks on behalf of the conference committee and Shandong University of Technology, respectively. Prof. Yagola, who has attended the CIPA conferences 3 times, thanked the organizers for helping to established long-term collaborations with IGGCAS. He also stressed that the CIPA conference is a valuable opportunity for the researchers of inverse problems to promote academic exchange and cooperation among distinguished and young scientists.
Inverse problems have attracted more and more researchers' attention in many fields all over the world. During July 9 -11, 13 plenary talks and 15 contributed talks were invited to present at the conference, covering the topics of regularization strategies for ill-posed inverse problems, inverse scattering problems, inverse problem of fractional diffusion equation, optimization solution methods for inverse problems, as well as inverse problems in the geophysics and textile science. The conference carried out extensive academic exchanges on the latest research about inverse problems and their applications with international colleagues and pushed forward China's contribution to the development of inverse problem in different disciplines.
Conference Site: The 4th International Workshop on CIPA