The 7th International Conference on Environmental and Engineering Geophysics(ICEEG) was held in Beijing from June 26th to June 29th. This conference was organized by the Chinese Geophysical Society and the Chinese Academy of Engineering, and was co-organized by the Institute of Geology and Geophysics, Chinese Academy of Sciences(IGGCAS) and China University of Mining and Technology (Beijing). The CAS Key Laboratories of Mineral Resources and Shale gas and Geoengineering, were the first and second sponsors, respectively.
This conference's theme was geophysical exploration and resource exploitation. Issues including progress and achievements of the latest geophysical theories, methods and instruments in engineering, environment, ecology, water source and disaster management were reported and discussed. Around 300 scholars from China, the USA, Germany, Italy, Kazakhstan, and Switzerland participated in the meeting, which included 105 oral presentations and 15 poster reports. LIU Guangding, TENG Jiwen, ZHU Rixiang and other 12 academicians attended this conference.
On behalf of IGGCAS, ZHU Rixiang delivered a speech at the opening ceremony, in which he emphasized the importance of resource management, combined with environmental and engineering geophysics in the development of the national economy. He encouraged young scholars and technicians to enhance the awareness of innovation in the theory, methods and technology of geophysics and promote the development of geophysics.
From this conference, 130 papers were selected and incorporated into a collection: Resource Detection and Environmental Protection with Applied Geophysics, which had been published by the German Atlantis press. DI Qingyun and XUE Guoqiang are the respectively the editor and associate editor of this symposium.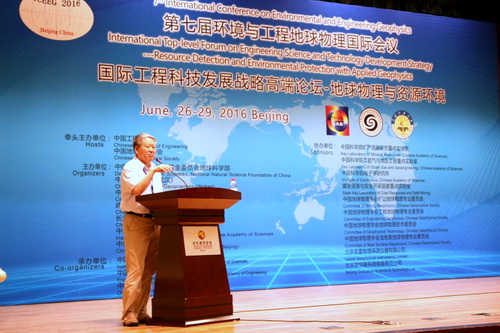 ZHU Rixiang delivering a speech at the opening ceremony of this conference(Photo:REN Hui)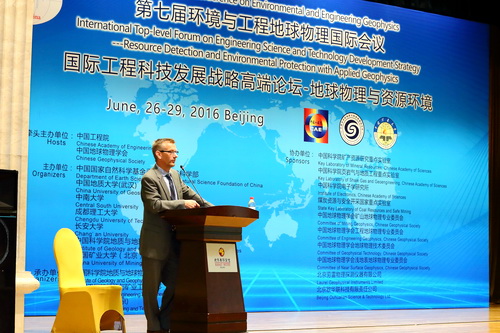 President of the American Society for exploration geophysics, John Bradford presented at this conference(Photo:REN Hui)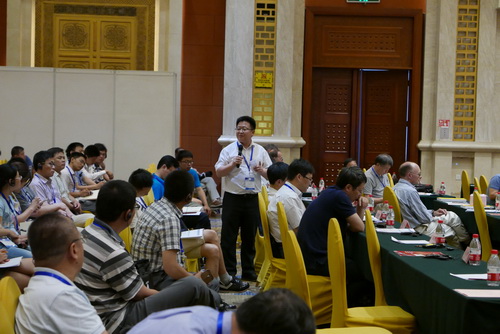 Participants involved in intense discussions(Photo:REN Hui)