Prof. Qin Kezhang from Division of Solid Mineral Resource of Institute of Geology and Geophysics (IGGCAS) invited Prof. Dash Batulzii to visit our institute from 2nd to 10th November. Batulzii's research is mainly focused on Mesozoic volcanic rocks in Mongolia, porphyry Cu-Mo deposits and vein type Pb-Zn-Ag deposits. Recently, she has been paying more attention to Ni-Cu-Co mineralization associated with mafic-ultramafic intrusions. The purpose of this visit was to discuss the genesis of mafic-ultramafic intrusions in northern Mongolia and basalts in the eastern Mongolia where Qin Kezhang and Dr. Yajing Mao visited and sampled this July. In addition, Prof. Richard J. Goldfarb from the U.S. Geological Survey was invited to visit our institute on 5th November. He is one of the leading economic geologists specializing in orogenic gold deposits having worked in this field for more than 30 years. Prof. Goldgarb is a senior researcher at the U.S. Geological Survey, and a Professor at Colorado School of Mines.
On November 5th, Dash Batulzii gave two presentations entitled "Geology and geochemistry of the Early Cretaceous volcanic rocks in eastern Mongolia" and "The layered gabbroids in the northern part of Mongolia and emplacement setting". Richard J. Goldfarb then presented two lectures entitled "Orogenic Gold: Regional Perspectives, Space-Time Correlations, and Changing Definition" and "Are There Carlin Deposits in China?"
The meeting was hosted by Prof. Qin Kezhang and more than 40 people participated, including researchers and students from our institute as well as Prof. Roberto Xavier and Dr. Gustavo Melo from the University of Campinas, Brazil. At the beginning, Qiu Zhengjie, vice president of the SEG (Society of Economic Geologists) student chapter of IGGCAS gave a short introduction about the hosted seminars, fieldwork, and honors of the chapter in the past few years.
In Dash Batulzii's presentation, she introduced the distribution of Cretaceous volcanic rocks in Mongolia, their texture characteristics and geochemical signatures. In terms of these observations, she proposed that these volcanic rocks as well as coeval volcanic rocks in the NE China are related to back-arc extension and they were generated during the transition from low angle to high angle subduction. She also presented the geology of mafic-ultramafic intrusions in the northern Mongolia and speculated on their the Ni-Cu-Co mineralization potential. After that, Richard J. Goldfarb encouraged us to participate in the SEG Annul Conferences in 2016 and 2017, which will be held in Turkey and China, respectively. Then, he introduced global orogenic gold deposits and some important gold deposits in China. Based on regional geology and fluid inclusion data, he believes that gold deposits in Jiaodong peninsula may be typical orogenic gold deposits. Furthermore, he pointed out that all the so-called Carlin deposits in China are not typical Carlin-type deposits in terms of altered mineral assemblage, ore forming temperature and pressure, and fluid inclusions as well as tectonic setting.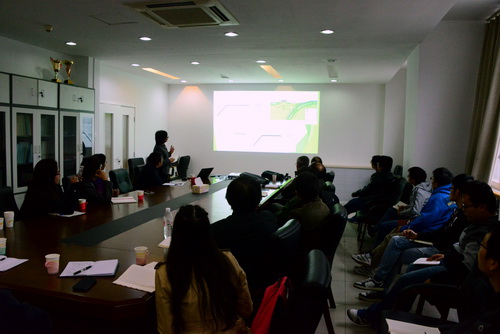 Prof. Dash Batulzii is giving a report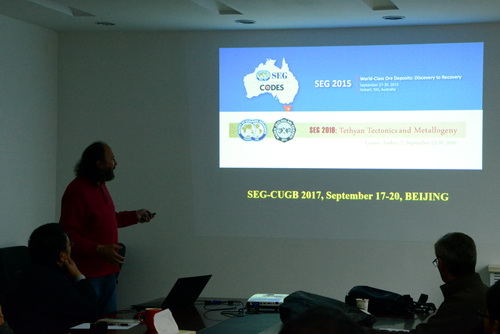 Dr. Richard J. Goldfarb is giving a report
(News by Yajing Mao, photo by Wengang Xu)