On June 23rd, Professor Tian-Chyi Jim Yeh from the University of Arizona, Tucson and Professor Gaopeng Lu from Institute of Atmospheric Physics, Chinese Academy of Sciences were invited by Dr. Yanhui Dong to give presentations entitled Seeing into Groundwater Basins and Application of lightning energy to probe the subsurface strata, respectively.
In Yeh's presentation, he introduced how to take advantage of stimuli and response to scan the heterogeneity of an aquifer. Using different spatial scales, he employed this method to study the spatial structure of fractured granite in the Mizunami Underground Research site, Japan and the aquifer distribution in the Zhuoshuixi alluvial fan in Taiwan.
In Lu's presentation, he introduced the principles and methods of artificially triggered lightning technology. He discussed the feasibility of using it as a controlled high energy electromagnetic method to probe the subsurface strata.
After the presentations, Prof. Yeh and Prof. Lu engaged the participants in an in-depth discussion on the integration between geophysics and groundwater exploration.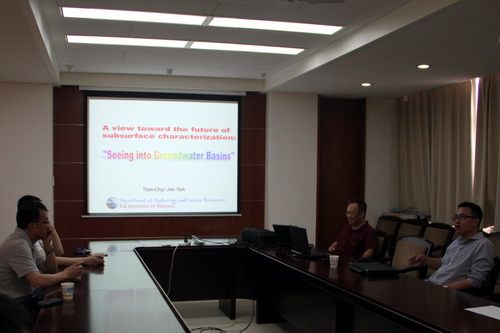 At the Meeting