Sponsored by Chinese Academy of Sciences (CAS) and the Institute of Geology and Geophysics, Chinese Academy of Sciences (IGGCAS), the international workshop on the geology of northeast Asia and geophysical characteristics of Asian continental margins was successfully hosted by IGGCAS on June 1st to 3rd, 2015 in Changping District, Beijing. 100 researchers from China, South Korea, North Korea, Russia, Australia, United States and India attended this workshop. The workshop support by several academic organizations and institutions, which included the Precambrian Research Group of Geological Society of China, China Committee of International Association for Gondwana Research, the Marine Geophysics Group of China Geophysical Union, Second Institute of Oceanography in State Oceanic Administration of China (SOA), South China Sea Institute of Oceanology, CAS, Qingdao Institute of Marine Geology in China Geological Survey (CGS, The State Key Laboratory of Continental Dynamics in Northwestern University of China, Chonbuk National University in South Korea, Pusan National University in South Korea. The workshop brought together petrologists, geologists, geophysicists, and marine geologists to exchange and discuss the latest research results for many scientific issues in northeast Asia and the Asian continent marginal seas, and provided a platform for establishing further international cooperation.
On June 2nd , Prof. Hao Tianyao from IGGCAS hosted the opening ceremony of the workshop and Prof. Zhai Mingguo, academician of the Chinese Academy of Sciences, gave a welcome address on behalf of our institute and the organization committee. Prof. Zhai said that the regions in northeast Asia and Asia continental margin seas are the window to viewing the interactions between the Pacific and the Eurasian plates and an excellent natural laboratory to study regional plate tectonic evolution. The goal of this workshop was to deepen mutual understanding between petrologists and marine geophysicists, to focus on deep tectonic evolution and dynamic background of Earth, and to develop a better understanding of tectonic and metallogenic evolution processes from surface to mantle. At the beginning of the workshop, Senior Scientist Jean-Claude Sibuet from the French Research Institute for Exploitation of the Sea (

IFREMER) and Prof. M. Santosh from China University of Geosciences (Beijing) gave their keynote talks on "South China Sea: new geodynamic constraints" and "Hadean to Neoarchean crustal growth in the early earth: an example from peninsular India", repectively. The keynote talks were presided over by Prof. Guo Jinghui from the IGGCAS and Prof. Suh Man-Cheol from Kongju National University in South Korea. During the workshop, domestic and foreign scholars gave 30 academic presentations and discussed the latest research results in their related fields.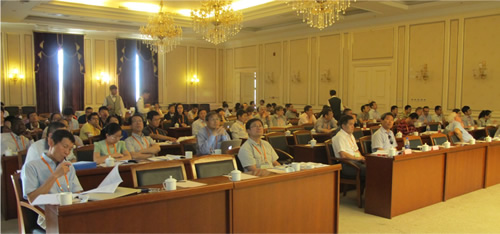 At the Meeting