Invited by the Division of Engineering Geology and Water Resources, the Key Laboratory of Shale Gas and Engineering Geology, and the Youth Innovation Promotion Association, CAS, Prof. CAI Ming from Laurentian University, Canada, visited IGG from 24th-27th, May, 2015. He made a presentation on the morning of 25th May entitled "Stable and unstable failure of rocks".
Prof. LI Xiao, the Chairman of the Key Laboratory of Shale Gas and Engineering Geology, hosted the symposium and gave the welcome remarks. Over 50 professors, postdoctors, and graduate students attended the symposium, including Profs. QI Shengwen,XU Jiamo,LI Lihui,CUI Zhendong,ZHAO Haijun and WANG Xueliang.
In the presentation, Prof. CAI discussed the phenomenon of stable and unstable failure in excavations at great depth. One type of unstable brittle rock failure is rock burst, in which rocks in deep mines spontaneously explode as they as adjust to changing pressures due to excavation. After the presentation, Prof. Cai engaged the participants in an in-depth discussion on the topics raised.
Prof. CAI received his bachelors and masters degrees from Tsinghua University and doctorate degree from the University of Tokyo. To-date, he has published more than 120 articles covering a broad range of rock and geomechanic studies, which includes modeling of rock masses, underground excavations at great depth, in-situ stress measurements, and rock failure processes, among many others.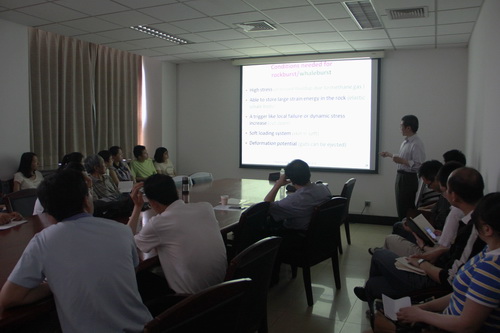 At the Meeting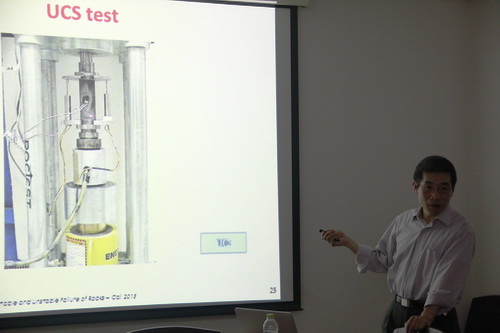 Prof. CAI is giving a presentation.