Invited by Professor LIU Hong of IGG, Professor Mauricio D. Sacch visited our institute on 15th April, 2014. Prof. Sacchi is a seismologist based at the University of Alberta, Canada, who specializes in the analysis of seismic data.
Prof. Sacchi gave a lecture titled"Minimum Nuclear Norm Algorithms for Matrix and Tensor Completion and Seismic Data Deblending" and Prof. LIU presided the seminar. Prof. Sacchi introduced the methods of adopting tensor completion strategies to recover unrecorded observations and tensor completion based on nuclear norm minimization for 5D seismic data reconstruction. Yanfei Wang, Jinhai Zhang and Lianfeng Zhao attended this meeting.
Prof. Mauricio D.Sacchi visited the GPU/CPU high performance computing (HPC) laboratory and praised the facilities and research achievement of the HPC group.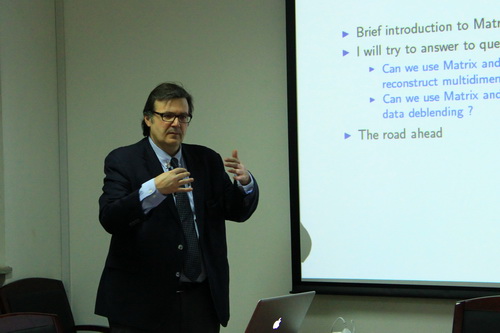 Prof. Sacchi introduces his presentation. (Photo by LIU Lu)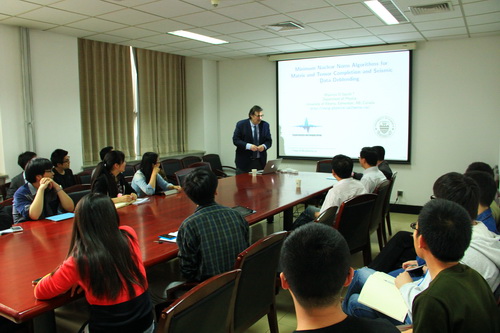 Many members of IGG attended Prof. Sacchi's talk. (Photo by LIU Lu)