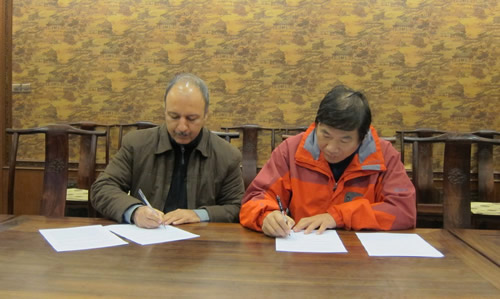 On the invitation of the Director Zhu Rixiang, a team of five people including Director of Research Institute for Earth Science, Geological Survey of Iran, Prof. Morteza Talebian and Deputy Headmaster from Birjand University, Dr. Mohammad Mahdi Khatib have paid an eight-day-visit to our institute.
During the visit, Director Zhu Rixiang, Deputy Director Wu Fuyuan, Prof. Xiao Wenjiao and Chen Ling have reached consensus with Iranian experts after discussion on the project of carrying out geology and geophysics research in Iran. On Dec 4th, Deputy Director Wu and Director Morteza Talebian signed a formal cooperation agreement between two institutes, clarified the specific plans for carrying out united field investigation, geological study and portable seismic array observation in Iran. This project will be initiated next year and start with geological and geophysics research to a profile from Zagros Mountain Ranges to South Caspian Sea. Implementation of this project will become another important oversea study on Tethyan Orogenic Belt after the program "China-Italy-France Alps Seismic Survey".
During the course of visit, we have held academic seminar on Tethyan evolution. Director Morteza Talebian, Dr. Hamid Nazari, Dr. Morteza Khalatbari Jafari, Prof. Jean-Pierre Burg from ETH Zurich, Prof. He Honglin from China Earthquake Administration and Prof. Wang Qingchen have given excellent report respectively. Attendees had a heated discussion about tectonic evolution of Tethyan Orogenic Belt, especially the common and distinct features between Tibetan Plateau and Iranian Plateau, concluded that doing comparison research between two plateaus is significant to the understanding of dynamic evolution on continent-continent collision.