On June 6, the 2016 graduation ceremony of IGG, CAS was held in the auditorium on the second floor of IGG Building 3.
In 2016, there are 135 graduate students at IGG, including 104 doctoral graduates and 31 postgraduates, divided into 15 winter graduate students, and 120 summer graduates reviewed and recommended by the Academic Degrees Committee at IGG. Graduate professions include 10 second-class disciplines under the three first-class disciplines of geology, geophysics, geological resources and engineering. A total of 85 PhDs and postgraduates attended the graduation ceremony with their families.
The graduation ceremony was held by Academician Wu Fuyuan, as Deputy Director of AGG and Vice-President of Academic Degrees Committee at IGG. Academician Zhu Rixiang, as Director of IGG, made the graduation speech. He first expressed his sincere congratulations to all the graduates, tutors and families, and his thanks to all the graduates for their great contributions to IGG's construction. Meanwhile, he encouraged all of the graduates to "learn to remember, to not forget why they began learning, to take graduation as a new starting point in life, and to be an example and social pillar in the future".
Academician Ye Danian, as Chairman of the Academic Degrees Committee, read the 2016 Summer Degree Awarding Decision of Academic Degrees Committee at IGG, CAS, and the listing of PhD and master's degree students. Graduate Bao Han, on behalf of all of the graduates, gave a warm speech, reviewed the unforgettable experience of study and life at IGG, and expressed his gratitude toward IGG, his mentors, classmates, family and friends. Academician Wang Jiyang, as a mentor representative, told about his study and scientific research experience that the learning and scientific research in the graduate student stage is merely the basis of future work, and said that he hoped all students could keep their feet on the ground, and continue learning and improving their business level and working ability.
During the ceremony, Academician Zhu Rixiang, Ye Danian, Yao Zhenxing and Wan Weixing tasseled for the students who attended the graduation ceremony, and took photos to mark the occasion.
Finally, all of the graduates and leaders, and members of the Academic Degrees Committee and tutor group took photos together, and signed on the wall and t-shirts, bringing the graduation event to its peak of excitement. (Photographs by Ren Hui)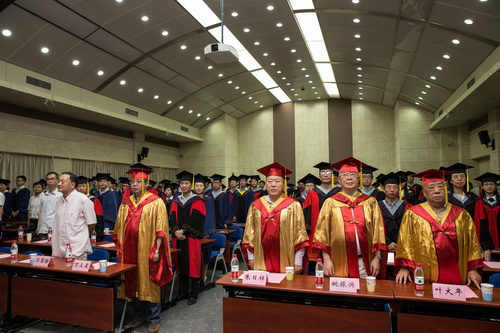 1 The graduation ceremony began with the national anthem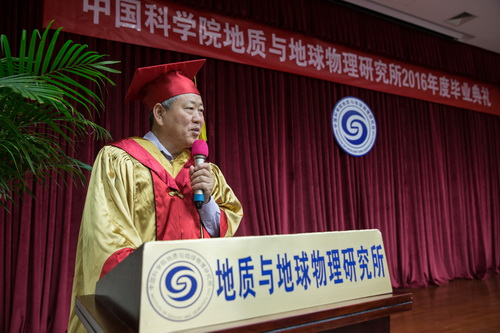 2 Academician Zhu Rixiang, as Director of IGG, made a speech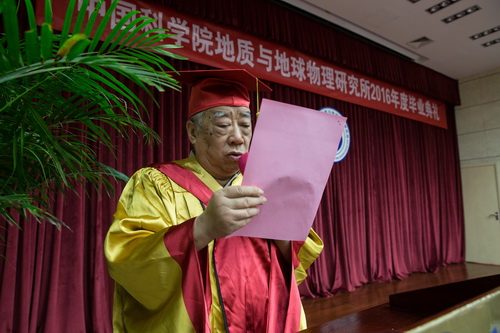 3 Academician Ye Danian read the 2016 summer degree award decisions of the Academic Degrees Committee and student listing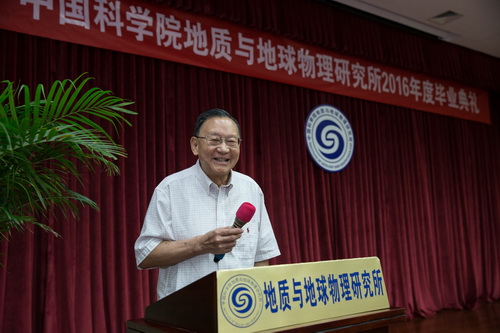 4 Academician Wang Jiyang, as mentor representative, make a speech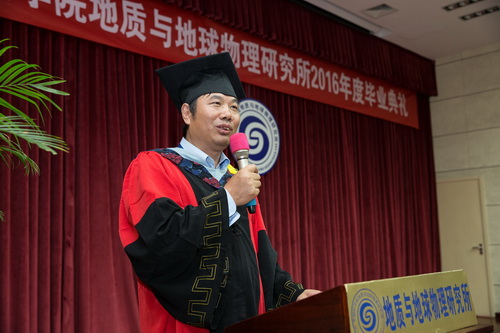 5 Academician Wu Fuyuan, as Vice-Director of IGG, held the graduation ceremony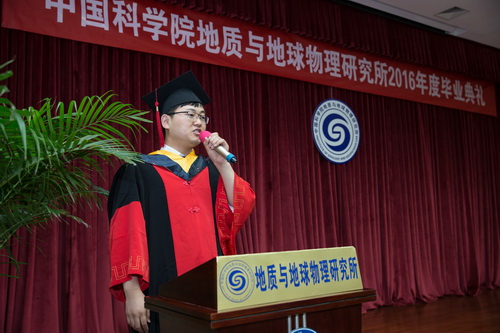 6 Student Bao Han, as graduate representative, made a speech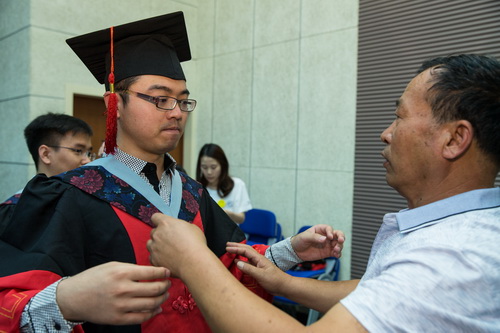 7 Father's love : tasseling the academic gowns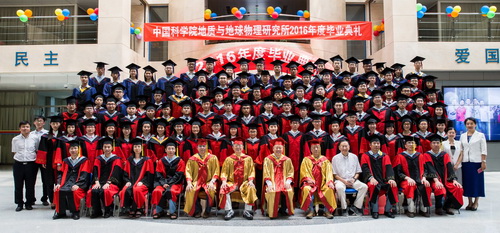 8 Group photo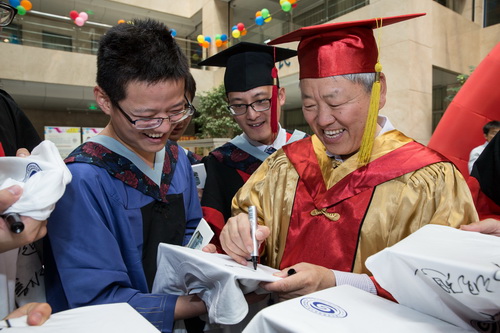 9 Academician Zhu Rixiang, as Director of IGG, signed the graduate t-shirts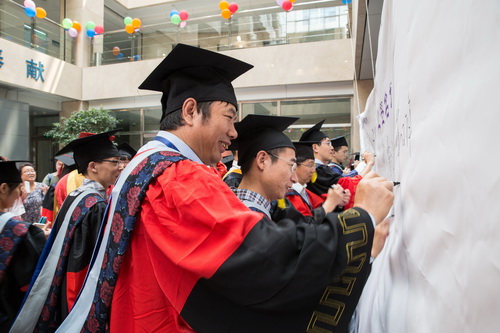 10 Academician Wu Fuyuan signed the wall