Javed Iqbal gave his PhD final oral defense at 10:00 AM on August 18, 2014 (Monday) at the Institute of Geology and Geophysics, Chinese Academy of Sciences, Beijing. The title of his dissertation was "Landslide hazards in the reservoir areas: A case study of Xiangjiaba Reservoir". The primary objective of his research was to better understand landslide hazards in water reservoir areas and the effects of the reservoir filling and water level fluctuations on the activation/reactivation and mechanisms of reservoir associated landslides. He has made a comprehensive assessment of the Xiangjiaba Reservoir using remote sensing and GIS technology, statistical and numerical modeling (2D & 3D), field instrumentation monitoring and in-situ and laboratory geotechnical tests.
The oral defense was chaired by Prof. Dr. Zhang Yongshuang (Institute of Geomechanics, Chinese Academy of Geological Sciences). In attendance were all members of the evaluation committee along with many other professors and students. After cross-questioning and critical evaluation, the committee members rated his research work was "outstanding".
From 2011 onward, Javed has participated in a project funded by China Three Gorges Project Company under the supervision of Prof. Dai Fuchu in China. He is now a project coordinator from Pakistan collaborating on an joint international project "Investigation of main active faults and major engineering geological problems along China-Pakistan economic corridor". During 2013-2014 he was the Academic officer of Graduate Students Union (GSU) Chinese Academy of Sciences.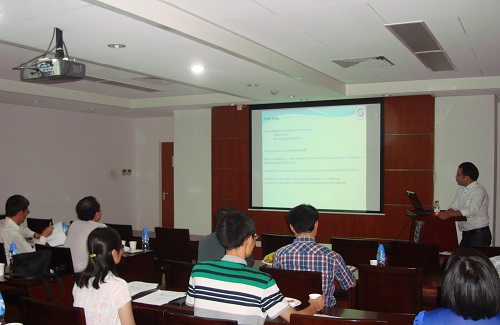 Javad giving his report (Photo by Shaukat Ali)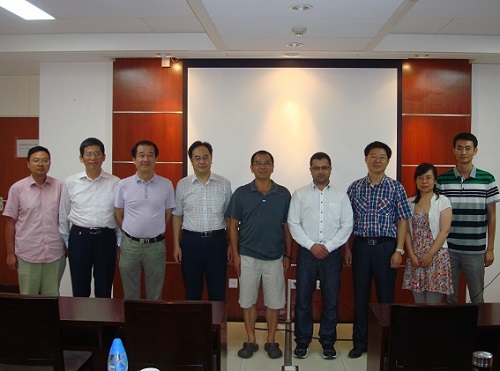 Javed and the evaluation committee members (Photo by Shaukat Ali)