Prof. YANG Xiaoping was officially elected as Vice President of the IAG (International Association of Geomorphologists,
www.geomorph.org
) for the period 2013-2017 and he is in charge of the IAG Working Groups and the society's activities in Asian and Pacific regions.
The election was held during the Eighth International Congress on Geomorphology in Paris at the Cité des Sciences de La Villette from August 27 to 31, 2013. The congress, with the main topic "Geomorphology and Sustainability", was successfully organized by the Groupe Français de Géomorphologie (GFG) and was attended by over 1400 participants from various countries and regions. Prof. Xiaoping Yang was invited to give one of the five plenary lectures and his talk was titled "Geomorphology and palaeoenvironmental changes in arid Asia".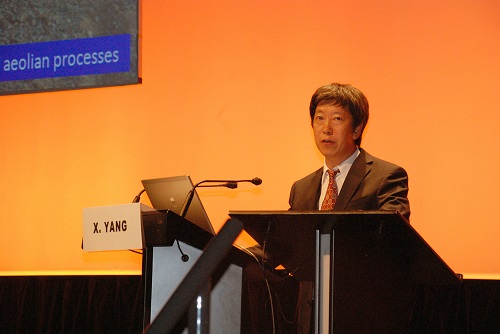 Prof. YANG Xiaoping gave the plenary lecture titled "Geomorphology and palaeoenvironmental changes in arid Asia" at the Eighth International Congress on Geomorphology in Paris
(Photo taken by Prof. Christian GIUSTI, the official photographer of the congress)